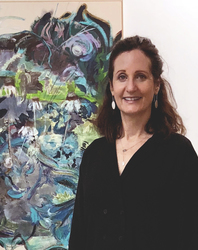 I create my art in much the same way I live my life—with a sense of exploration and the trust that meaning will reveal itself, if only in hindsight. I am interested in making visible the feeling of wind blowing through my materials, hinting at the idea that a natural force is at work. Whether I am painting on canvas, sculpting with clay, collaging, printing, or otherwise combining media, I ground my work in my experiences as an immigrant and aim to create a visual experience of transformation.

In my most recent work, I am attempting to depict energy rather than a figure or other rendering. Movement is the main character, a relentless spirit of transformation. I use an additive, layering process with an eye towards maintaining transparency between those layers. In this way, I reference the act of letting go and then letting go again, something an immigrant or refugee must learn to do.

Much of my inspiration comes from contemplative moments in my daily life. I take many long hikes during which I am able to closely observe the changing seasons. As I witness the impermanence and destruction that is part of creation, I recognize the transformative energy that allows for renewal; these images make their way into my subconscious and appear on the canvas.


Revi Meicler is a mixed media artist who uses her paintings, sculptures, and works on paper to create visual experiences of transformation and movement. Born on a kibbutz in Israel, growing up in Paris, France and later in Houston, Texas, she was introduced to impermanence at an early age. Her experiences as an immigrant - relocating and immersing herself in various cultures - enforced in her the awareness that we live in a world of constant flux . Her current work is an attempt to capture this transformative energy.

Meicler studied business, finance and art at the University of Houston and continued her studies at the Glassell School of Art in Houston, Texas. Her work is in numerous private and public collections.
She currently lives in Austin, Texas where her work is represented by the Wally Workman Gallery.
Solo Exhibitions
2018 Wally Workman Gallery, Austin, TX
Group Exhibitions
2018 People's Gallery, Austin City Hall, Austin, TX
2017 EAST (the East Austin Studio Tour), Austin, TX
Print Austin, Austin, TX
2016 People's Gallery, Austin City Hall, Austin, TX
Davis Gallery, Austin, TX
2015 Metropolitan Gallery, Austin, TX
ArtHop 2015, Georgetown, TX
Gallery at the J, Austin, TX
2014 Photo LA, AFTA featuring photo use in mixed media, Los Angeles, CA
People's Gallery, Austin City Hall, Austin,TX
Davis Gallery, Austin, TX