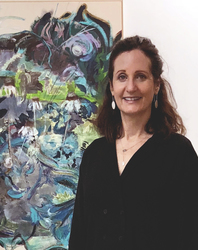 I create my art in much the same way I live my life—with a sense of exploration and the trust that meaning will reveal itself, if only in hindsight. Whether I am painting on canvas, sculpting with clay, collaging, printing, or otherwise combining media, I aim to create a visual experience of transformation.


Revi Meicler is a mixed media artist who uses her paintings, sculptures, and works on paper to create visual experiences of transformation and movement. Her works are characterized by their luminous layers of color and inspiration from nature. She was born on a kibbutz in Israel and later moved to Paris, France and Houston, Texas. Her experiences as an immigrant - relocating, learning new languages and immersing herself in various cultures - enforced in her the awareness that existence is fluid and multidimensional. Her current work is an attempt to capture this transformative energy.

Meicler studied business, finance and art at the University of Houston and continued her studies at the Glassell School of Art in Houston, Texas. She has exhibited with the Davis Gallery, Metropolitan Gallery, People's Gallery and Wally Workman Gallery in Austin, Texas. In 2018 she was a finalist in the visual arts category for the Austin Critics Tables Awards. Her work has been included in group shows in Los Angeles, Houston, and Dallas and is in numerous private and public collections in the United States and Europe. She currently lives in Austin, Texas where she is represented by the Wally Workman Gallery.